Cancelled plans,
Kids at home,
Homeschooling,
and
Mum needs to work and be left alone
… so how do you balance everything when everyone is at home and YOU never get left alone????
Here are some super mum hacks
that will help you out and ones that are favourites of BigW too.
Maths class

 
Schools out for the Easter holidays, but it is still important to establish a routine, not just for working from home, but also for your kids. Keeping the kids educated and entertained during this challenging time is key and reminding them that daily chores are still on the agenda is important. So grab a Dry Erase Board, some Monopoly money and some tasty snacks and get those kiddies working for their maths class – trading chores for treats!  
After paying for snacks with Monopoly money the kids will be experts in: counting change, knowing if they have enough for a certain snack and how much money they have left.
If you are after a good way to help kids learn more about Money then Spriggy is helpful to teach kids about financial literacy. My kids love their Spriggy cards and I'm sure you will too!
Art class

 
Whether you're a rookie or a WFH veteran, creating structure and ensuring productivity is important. Setting up space in your home where you exclusively work and commit to working from each day, will make you more productive. So now you have found somewhere quiet, with a door and the least amount of distractions (including mess), grab some tape and large pieces of chalk and get the kid's creative flares sparked with a DIY art class. 
Get some great deals on Art & craft supplies for kids
Keeping kids occupied with art or a creative project will keep them happy and allow you to get some work done too.
More Creative Ideas For Kids: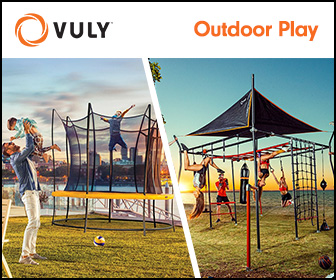 English class

 
It is important to plan your daily breaks when WFH. With kids needing to be constantly entertained, fed and watered – even Mum needs a break sometimes
. Sitting the kids in front of the TV whilst you take some time out never felt so educational (and entertaining) – simply switch on the mute button and chuck on some subtitles. Welcome to Mum's English class
kids!
Physical Education

 
While Super Mum's navigate the new world of isolation and working alongside their kids 24/7, it's still important to keep moving and remain active. While you may love going for a run or setting up some time for a yoga
sesh, watch the kids stay active and learn how to ride a bike, sharing a little #fitspo-lation to other Mum's these holidays. 
My kids just love their Vuly Trampoline and have fun Boucin' Around: A Fun Way to Keep Your Kids Occupied These Holidays
These are great ways to help you get work done and at the same time entertain and help kids learn.
Sign up for my newsletter
Stay current with all the things that are happening on Mummy to Twins Plus One. Don't miss a thing by signing up for my newsletter. This newsletter will list all giveaways and fabulous things that are happening.

This post has affiliate links