I was sent a Scrub Daddy Family Starter pack to test out…and I must say that the cheeky smile on the scrub daddy and scrub mommy has meant that the kids have taken a huge interest in cleaning.

Before you find out how you can grab a pack of scrub daddy goodies for yourself, you must read what we thought of the amazing products.
I love the fact that the sponge daddy and mommy have fun faces that allow you to clean items more easily. These sponges are also called the smiley super-sponges!
The "smiley face isn't just for fun – the eyes allow fingers to firmly grip the Daddy in tricky spots like the bottom of cups, his spiky haircut gets right into corners and crevices, his mouth cleans both sides of cutlery in one stroke, while the Daddy Caddy allows you to neatly pop him out of sight on the side of your sink while he dries out – he even comes in a range of colours to suit different decors."
You can have different colours for cleaning different areas. This way you can just tell everyone that the kitchen has the pink one, which is the Scrub Mommy, and the Yellow one the Scrub Daddy is for the fridge.
Early Bird Christmas Toy Bonanza – Catch.com.au
TIP: Keep one Scrub Daddy in your fridge's veggie drawer just for cleaning food without peeling.
My new favourite product is the "Eraser Daddy"
This amazing sponge or scrubber can get rid of stains or creative artwork that the kids have decided to add to your walls without asking.
The Eraser Daddy didn't need any spray or soap added, I just added some hot water and used the Eraser Daddy…and then just a few scrubs of it and it instantly removed the marks off the wall in the kitchen.

The Eraser Daddy 10x simply refuses to disintegrate, unlike other magic erasers. In fact, The Eraser Daddy lasts ten times longer.
I like many have had my fair share of lockdown-generated cleaning challenges, and now that I have my Eraser Daddy I can clean tricky issues with no sprays and just a dip in water.

The Eraser Daddy can help with the following:
Crayon, felt-tip, and pencil marks from cooped-up kids – he even has a good go at permanent marker
Battered walls, skirting boards, doors, and light switches – he can do multiple rooms without falling apart
For kitchens that have been running overtime – baking trays, sinks, fridges, ovens, and even stainless-steel can sparkle (just rub with the metal's grain)
Bathtubs, basins, loos, shower screens, tiles, and tapware
The messy side-effects of increased lockdown DIY – he can tidy up jobs by removing paint and grout splatters
Almost anything outdoors – pool tiles, garden furniture (plastic, wood, or metal), decking, BBQs (inside and out), and even your car's wheels and interior
Scuff marks on white trainers that may have seen extra exercise use (in fact scuffs on almost anything)
And almost anywhere else that's showing extra lockdown grime
Screen Daddy also means that your iPhone screen is super clean!
Not only does the Screen Daddy clean your phone screens it can also clean your laptop screen as well as your desktop computer screen too.
DID YOU KNOW… The Scrub Daddy was the most successful product ever from the American version of Shark Tank. It was invented by Aaron Krause and has an amazing feature that makes the Scrub Daddy uses FlexTexture material that makes it firm in cold water and all without scratching and soft in warm or hot water.

The scrub daddy products don't "need extra cleaning chemicals, and all while remaining odourless. Not only can he replace all your other sponges and most of your sprays, but he lasts much longer and can even be deep cleaned in the dishwasher or microwave."
How to WIN a Scrub Daddy Starter Pack
Simply fill out the rafflecopter form and answer this question as a comment on this blog post.

Q. Why do you need a Scrub Daddy Starter Pack?

To comment to answer the above go to the bottom of the post where it says, WHAT DO YOU THINK? Then enter your comment on this post.
a Rafflecopter giveaway
Note: If I don't hear from you within 24 hours of letting you know you have won, I will need to redraw the winner.
Make sure to check your emails, you never know right! By filling out your details you agree to be emailed news about the blog and sent our newsletter.
Don't worry you will never be spammed. I value your details and only send emails with news that will interest my readers.
Get the Kids a PIPER Computer Kit for Christmas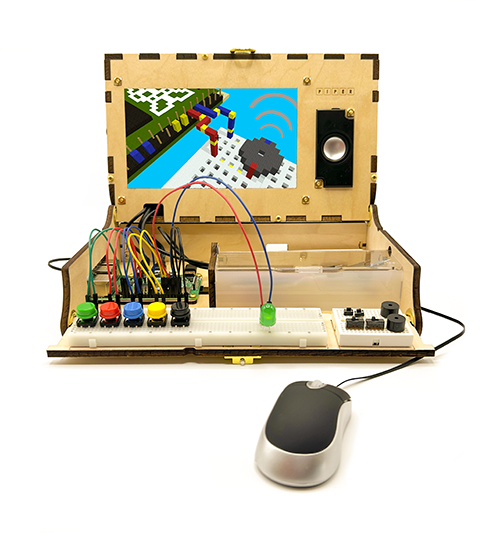 When does the Giveaway End?
The giveaway ends Sunday the 8th of November at Midnight.
Who can Enter the Giveaway?
Australian residents only.
Would you like to get $10 off a Scrub Daddy Starter Pack?
If you use the code below you can get $10 off the Scrub Daddy Starter pack…and yes this makes it even cheaper.

Code: suzannevip

You can buy Scrub Daddy products here: www.kitncaboodle.com.au/scrub-daddy-starter

Only 1 code per person.

This means that you will only pay $39.95 inc delivery, which is an absolute bargain!

For more uses and cleanspiration follow and tag @scrubdaddyau

Scrub Daddy and Mommy launch in Coles this October
For stockists and online purchases visit www.scrubdaddy.net.au
Thanks so much to Scrub Daddy for sending us a great starter pack to try. We love our Scrub Daddy products.

Sign up for my newsletter
Stay current with all the things that are happening on Mummy to Twins Plus One. Don't miss a thing by signing up for my newsletter. This newsletter will list all giveaways and fabulous things that are happening.

This post has Affiliate Links