Note: We have still got non-stop rain and it is July 2022. It is causing chaos, flooding, roads closed and landslides too. Also creating difficulty travelling. You will see a quote from my little boy from 2021 as the post was first published on 21st March 2021.
We have had non-stop rain and according to my little boy, it has been raining for ages and ages, see his quote below for how long it has been raining.
And yes 100 weeks of rain is what it has felt like and currently no end in sight of when it might stop.
Here are the 31 Indoor Activities
Watch a movie with the kids
Set up your living room with pillows, cushions and blankets. Get the movie popcorn ready and put on a new film or a family favourite. Watch the whole series of Harry Potter, Addams Family, Back to the Future, Jumanji: Welcome to the Jungle and Jumanji: The Next Level or anything that takes your fancy. There is nothing better than being cosy in warm blankets while it is raining and watching a fun film with your family.


Draw and Paint
Set up tables, paint, crayons and textas ready for kids to create future masterpieces. Make sure that you have kids in old clothes and put newspaper or a cloth down to ensure you don't get heaps of mess on the floor.
See if the kids can draw a self-portrait or maybe do a picture of another family member.
3. Make your own Paint
I wanted to get the kids painting, and I did not want paint that causes issues with clothes or bad if you accidentally eat it. So I made my own paint. How I hear you ask??
Cornflour
Water
Food dye

I started with 1 cup of cornflour and enough water to make a paste. I created all the mixture before I added the colour as I wanted different colours that would allow the kids to paint a picture and not be restricted to two colours only. I added the mixture without the colour into a cupcake tin and then added the colour to each area of the tin.

I decided to make, yellow, purple, orange, blue, green and red. I ended up using more cornflour as it was not quite a paste consistency and I used more water than I should have as it was my first attempt at making this. To make each paint set I put it in the freezer to set. I am not sure if that is the done thing but it worked out quite well.

It might have been in the freezer for a bit long but after adding a bit of water with the paintbrush the colour melted a bit and it was just like real paints but with cornflour and water.
4. Make Autumn Pictures with Leaves
There are so many bright and colourful leaves that have changed colour during Autumn. Use these bright leaves to create wonderful artwork.


5. Read books
Read books to the youngest kids and older ones can have some quiet time in their room reading too
Act out your favourite scenes or part of the book you just read
Put on a play for your family – it could be from the story you just read or a story you have just made up.
6. Shadow Puppet Show
Create a shadow puppet show. You can make paper characters or just use your hands. All you need is a darkened room and a torch…oh and shadow puppets and a fun story.
7. Create Painted Rocks
While the weather is not great and you are indoors it is a perfect time to decorate rocks with the kids.
Learn more about how we made these amazing space looking rocks.
7. Make a blanket fort
Grab all the blankets to create a blanket fort. It is helpful to have some rubber bands and string to help tie the blankets to chairs and other furniture. You can also knot blankets together so that they all stay intact to allow you to have a bigger fort.
8. Camp out for the day in your blanket fort
Now you have your own hidy hole and it is all comfy with more blankets, pillows and cushions you can now camp out here for the day. Bring your most favourite toys, teddies, cars and a torch to allow you to have fun in your secret base.
9. DUPLO/LEGO Skittles
Make your very own skittles from DUPLO or LEGO. Super easy and fun to make and once your skittles are created all you need is a tennis ball or something similar to use to knock them down. Hours of fun can be had for the whole family.

10. Playdough Fun
Make your own Playdough. It is so easy and you can create so many unique colours. Everyone can get involved in making their own playdough masterpiece. I love using McKenzie's Playdough Recipe and I think the magic ingredient is McKenzie's Cream of Tartar as it makes the playdough so soft!

11. Bake your Playdough
Now that you have made a stunning piece of art in playdough you can keep it by baking it in the oven

Put the playdough creations on a baking tray with baking paper. Have the oven on for 200 degrees for around 30mins.

12. Make Salt Dough Ornaments
Super easy and fun for the kids to make, these ornaments will be able to be given as gifts or just hung up around the house. You can use them for Easter, Christmas or for any occasion.
13. Make Raspberry Playdough – Smells Amazing!
Playdough is fun and playdough that smells fantastic is even better! Make this super easy raspberry playdough


14. Make Jewellery, brooches and character statues with Fimo
When I was younger and still in primary school, I made Fimo jewellery, beads and characters with my sister. We were rather good at it and sold them at the local markets. It is a fun activity to do with the kids and fosters creativity. Fimo is so much fun and something I want to do more of again.
15. Bake a cake
Make a cake with the kids for afternoon tea or just because. It can be a yummy choc chip one or if your little one is like mine you might have to make vanilla cakes with blue icing.
Choc Chip Pumpkin Bread is so yummy and you will just love it.
16. Make Gingerbread People
If cakes are not your thing, get creative and make some fun and yummy gingerbread people. I have the best gingerbread recipe to download. Everyone will enjoy decorating their gingerbread people.

17. Bake cookies or brownies
Cookies and brownies might be easier to create and also allow for more people to have something little to eat.
18. Cook Hot Chips from Scratch in the Airfryer
Cooking chips from scratch in the airfryer is super easy and also a healthier option. Give it a go for a movie night or an addition to a quick dinner.
19. Play dress-ups
If you have a dress-up box you will have hours of fun dressing up as all sorts of different characters, police, magician, princess, firefighter, superhero's and more!
20. YouTube Tutorials
For older kids and adults you can learn online with YouTube. One of my girls has taken to watching art tutorials on YouTube and has created stunning drawings as a result.
21. Online Learning for Parents or older kids
MasterClass is a wonderful way to learn from the comfort of your own home and perfect for rainy days. You can learn magic from Penn & Teller, Annie Leibovitz Teaches Photography, Shonda Rhimes Teaches Writing For Television, Timbaland Teaches Producing and Beatmaking and loads more wonderful classes!
22. Decorate Your Own Handerchiefs with Stained Sharpies
This is a great project and fun for all. You can make a unique design on handkerchiefs and either use them as gifts or keep them for yourself.

23. Learning to Code with Tynker.com
Tynker.com has great online lessons for kids who would love to learn to code
24. Piper Computer Kit – Learn how to program and build a computer
My kids love their Piper Computer Kit and it is so fun to use.
Inspire Invention In Your Kids With Piper – Hands-On STEAM Learning!
Have Your Children Learn Computer Science, Electronics, & Coding With The Piper Computer Kit!
25. Decorate Cups with Sharpies
The kids decorated some mugs for Father's Day but you could do it for any occasion or just for a great project. Having constant rain is a good idea to just do something fun.
26. Make a Paper Chain Calendar
This is a fun activity to help kids learn more about dates for each month.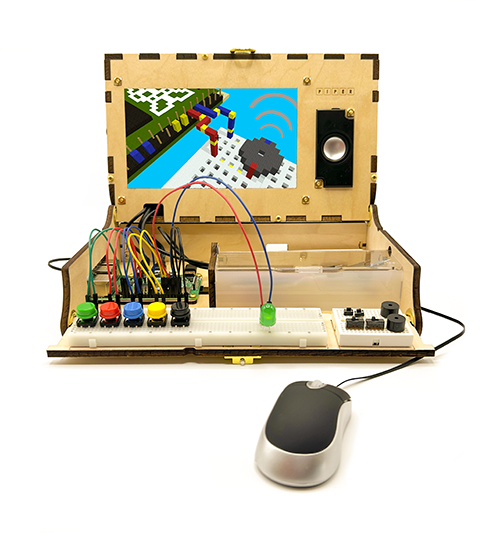 27. Play Sight Words Bingo
While stuck indoors, why not play a game that is fun but also educational? Play Sight Words Bingo to help your kids recognise more letters for reading at school.
28. Fizzy Dyed Easter Eggs
This is a fun way to dye Easter Eggs and could be a messy one. Make sure to have ample protection and old clothes for this activity.
29. DIY Wind Chimes
Make your own wind chime from recycled items.

30. Add Google 3D Animals to your Photos
Add some fun animals to your photos and amaze your friends.
31. Make Fairy Lights
Make glow in the dark fairy lights… and yes they work and are amazing!
I hope this list helps you out and keeps kids occupied while being stuck inside on a wet and horrible day.
I will be adding more things to do to the website so make sure to check back to see the new content.
Sign up for my Newsletter
This post has affiliate links